Gas-phase diffraction published in Phys. Rev. Lett.
28 February, 2014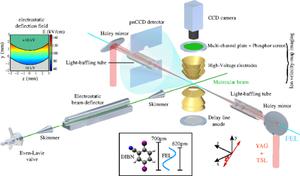 Our paper about the first experimental demonstration of x-ray diffraction from ensembles of quantum-state selected and laser-aligned gas-phase molecules, performed at the X-ray Free-Electron Laser LCLS is published: "X-Ray Diffraction from Isolated and Strongly Aligned Gas-Phase Molecules with a Free-Electron Laser", Phys. Rev. Lett. 112, 083002 (2014). This experiment is a first step toward coherent diffractive imaging of structures and structural dynamics of isolated molecules at atomic (picometers and femtoseconds) resolution in future experiments at X-ray free-electron lasers.
The work is covered by press releases A Molecular Ballet under the X-ray Laser and Molekülballett im Röntgenlaser and an APS Focus story.
Related Information

Publication