Controlled Molecule Imaging workshop
27 February, 2016
For three days from Thursday, 25. February to Saturday, 27. February, the whole group went to Goslar (Harz) for an intensive group workshop. Our long-term collaborators Henrik Stapelfeldt and Rosario González Férez joined in and presented their current work in keynote lectures.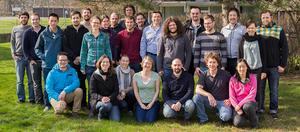 The workshop included short presentations by all CMI members, two project overview talks on Imaging Chemical Dynamics, by Sebatian Trippel, and COMOTION, by Daniel Horke, as well as keynote lectures on the very details on alignment and orientation by Rosario González Férez as well as Henrik Stapelfeldt, who spoke on alignment in helium nanodreoplets.
Moreover, we had long discussions on Cold Molecules during a great hike up the Teufelsstieg to the top of the Brocken. And while it was warm and sunny throughout the whole hike, up and down, through the snowy paths, it was cloudy, cold, and snowing on the top.
CMI group on Brocken

(back row) Nils Roth, Daniel Horke, Karol Długołęcki, Boris Sartakov, Linda Thesing, Jens Kienitz, Barbora Vagovič, Joss Wiese, Xiaoyan Sun, Tim Ossenbrüggen, Zhipeng Huang, Helen Bieker, Evangelos Karamatskos, Thomas Kierspel, Sebastian Trippel, Ruth Livingstone, Andrea Trabattoni, Terry Mullins

(front row) Nicole Teschmit, Jochen Küpper, Pau González

(not present) Nele Müller, Igor Rubinskiy, Michele Di Fraia, Daniel Gusa, Bastian Deppe, Alex Franke, Tim Schmidt, Bernd Lienau